You're probably guilty of this. You watch a YouTube video, or read a blog from a popular travel blogger and think to yourself, "I wish I could afford to travel like that."
Don't worry, friend, you're not alone! Before my first trip through Europe in 2015, I was just like you. I would spend hours daydreaming about travel, hoping that one day I would be able to gather enough nickels and buy myself a plane ticket.
But what if I told you that you didn't have to wait or gather pennies? That you could actually travel the world for under $1000 a month!
Well, friend, that isn't a tease, it's a reality. My husband and I have been traveling full-time since June of 2018 and have sustained this travel lifestyle on a travel budget well below $1000 a month per person. This wasn't done with any special hat tricks, or an obscene amount of travel hacking, either. Travel doesn't have to be expensive, and once you harness the skills of budget travel, it can be sustained long-term!
Related: Travel Full-Time on a Budget: The Complete Guide
To Travel for Under $1000 a Month, You Need to Subsidize Costs
An easy way to budget travel is by subsidizing your travel costs such as accommodations, transportation, and food. Before the age of the internet, this was a little bit more complicated to do.
However, with so many facebook groups, apps, programs, and cultural exchanges available to us with just a quick google search, you can seriously cut down on costs.
Related: How to Travel FOR FREE: The Complete Guide
Here are a few of those programs that will let you travel for under $1000:
WWOOF stands for World Wide Opportunities on Organic Farms. It's an international program that sets you up with work on organic farms in exchange for free food and accommodations. WWOOFing is an amazing opportunity that gets you absorbed by local culture, lets you live with a local family, and gain some really useful agricultural skills along the way.
If you're okay with occasionally getting a little grungy, and learning some unexpected skills you can work and play in countries all over! There are over 120 different countries to choose from, so no matter where you want to go, you are covered.
Work Away is an incredible program that promotes volunteering, cultural exchanges, farmwork opportunities, and even language learning opportunities all over the world. With almost 40,000 hosts in over 170 countries, you are bound to find a program that suits you! The hosts of the program cover your accommodation costs and all meals, and even something tour you through the area. This is great because it allows you to live in countries like a true local!
My friend, Gurlana, did work away in Lithuania where she was literally told, "your job is to love my llamas" and so that's what she did! She would wake up every morning, walk the llamas, feed them, hug them, and just hang out with them all day! She said it was one of the most rewarding things she's ever done in her life! Now, she's volunteering on tour boats that go through Lan Ha Bay, Vietnam one of the most beautiful archipelagos in the world. All for free!
Related: 10 Best Location Independent Jobs That Let You Travel Full-Time
Housesitting is a great way to travel for under $1000 a month because it lets you find accommodation worldwide for free! Most housesits involve caring for a pet and doing a little bit of housekeeping. In exchange for that small effort, you can end up in some beautiful homes all over the world!
Housesitting is an especially great option for those of you who love animals! The animals you care for can range from your standard cats and dogs to more exotic pets like snakes, horses, and sometimes even spiders. If that worries you, it's okay! You can totally scout out your housesits, read reviews about hosts, and designate your boundaries all before you commit.
Imagine how awesome it would be, though, to snuggle a cute pup while in a city you're excited to explore. Added bonus, you don't have to pay a dime!
Click here to get your free account with Trusted Housesitters and start housesitting!
I would be doing you a disservice if I didn't tell you about CouchSurfing. Here's the concept: You connect with people all around the world who are willing to host travelers in their homes. Sometimes they have an extra bedroom, other times it's a space on the floor. No matter what the accommodations look like, most of the people of CouchSurfing are really looking for friendship and you get a place to stay as a bonus!
CouchSurfing hosts hangouts in cities around the world where you can meet other CouchSurfers and just get to know each other! This is great not only for finding people who can host you, but all of those Couchsurfers can also write you a "reference" on the website confirming that you're not a creep. And that, my friends, makes it infinitely easier to get couches to sleep on.
Although the idea of staying at random stranger's homes may sound unsafe, it's not as bad as you'd think! CouchSurfing is less about the room (or sometimes floor) you're staying on, and more about the learning and hanging out with a real local! It's not just an opportunity for free accommodation while traveling, but also a place to make life-long friendships!
[Before you dive into Couchsurfing, learn how to be a good Couchsurfing guest or host!]
Frequent Flier Miles / Credit Card Bonuses
This is one of my favorite ways to subsidize costs because it does more than save you money! Frequent flier miles let you acquire rewards and points as you spend money on the credit card. This is great because you can accrue points as you spend money on things you would usually buy anyway! You can then use these points to get free flights to countries all over the world! This is a great way to travel for under $1000 because flights and accommodations are often the largest part of your budget.
Some credit cards, like the Chase Sapphire Reserve card, give you perks like travel insurance, purchase protection, and my favorite, lounge access! Airport lounges around the world offer food, refreshments, alcohol, and sometimes even showers! They are a true godsend when you've been on a plane for 17.5 hours, and have a 6-hour layover!
Here's How We Got FREE Flights on Qatar Airways
Playing around with travel credit cards is literally how we got our flights to Bangkok, Thailand FOR FREE! And it was on Qatar Airways!
[embedyt] https://www.youtube.com/watch?v=jHg7VHSEs9E[/embedyt]
Eight months before we departed for our full-time travel adventure, I applied for the Chase Sapphire Preferred Card. This card has a $95 annual fee, but when you spend $4000 in the first 3 months it gives you 60,000 points. That is equal to $750 in travel rewards!
You're probably thinking, "That's awesome, Annette, but I'm reading this post because I'm broke… How do you expect me to spend $4000 in 3 months…".
Friend, I gotcha. There are several ways around this.
Put all of your current expenses on your credit card (car insurance, utilities, internet, phone bill, cable, EVERYTHING)
Recruit your friends and family to use your credit card and Venmo (Cash App) you the money
Buy everything you're going to need for your trip with the credit card. If you don't know what you'll need, here's everything Daniel and I use to travel full-time.
Related: What to Bring Traveling- FREE Packing List!
[embedyt] https://www.youtube.com/watch?v=K2AJhbnUBH8[/embedyt]
To Travel for Under $1000 a Month, You Need to Travel Carry-On Only
You would be impressed with the amount of money you could save by just traveling carry-on only. You might not think about it while you're still at home, but when you're traveling full-time, you are constantly taking flights. Those airline luggage fees can range between $20 USD and up to $200 USD! If you can condense everything you need into a 55L backpack, you can save thousands of dollars of travel! And I know you can do it because Daniel and I have been traveling carry-on only since 2018! Need pointers on how we do it? Check out everything we own here!
Related: Travel Carry-On Only: How to Never Pay for a Checked Bag Again!
To Travel for Under $1000 a Month, You Need to Pick the Right Country
It's no secret that high-income countries can be expensive. That's why you need to pick the right country if you want to travel for under $1000 a month.
Countries in South East Asia, Eastern Europe, and even South America let you capitalize on your country's strong currency. To put it in perspective, My husband and I spent $1000 for a month in Thailand combined. This included flights to and from, all of our meals, accommodations, motorbike rentals for the month, and even alcohol.
[embedyt] https://www.youtube.com/watch?v=zewogosNdR0[/embedyt]
Thailand, Anyone?
In Thailand, we ate when we wanted, drank what we wanted, and even stayed in private bedrooms and studio apartments. You might even say we lived like kings!
What separated our financial experience from that of our European holiday was the currency. In Thailand, nice meals at restaurants max out at $5 and you can eat delicious street food for as low as $1. For private accommodations with AC and a hot shower, we were paying a max of $15 a night. If you are traveling alone, it can be as cheap as $3 a night in a hostel! Our motorbike rental for the month was literally $5 per day for the nicest bike we could find!  As you can see, if you pick a country with a lower average income than your own you can maximize your travel budget.
Related: 10 Best Places to Visit in Thailand
To Travel for Under $1000 a Month, You Need to Travel Slowly
Slow travel is great for SO many reasons, but one of them is that it's simply cheaper.
Think about it, if what you have to work with is a two-week vacation and you're bouncing from country to country, you're going to spend a lot of money on transportation. When we were traveling through Europe, we made it to 10 countries in 6 weeks! This meant taking tons of flights, trains, and buses just to get around. Not to mention taxies to and from the airport. Needless to say, that trip ended up costing us over $15,000!
If you travel slowly, you're able to get better deals on accommodations, motorbikes, and even sometimes food! For accommodations, we often show up to the country and go apartment shopping for the first couple of days. This allows us to see what places suit us, as well as negotiate the price with the locals.
Getting apartments also lets you save money by cooking at home, buying from local markets, and they are generally further away from tourist hubs. Well-known sites like Airbnb offer you hefty discounts on week and month rentals and so do motorbike shops!
Also, I can't tell you how many times we've been abroad and overcharged on food on the first visit. After a few returns to the same street food vendor, they started charging us HALF the price! Slow travel has many benefits, and the deals you can get are definitely one of them.
But the benefits of slow travel extended further than just the budget…
Slow travel is great for keeping your budget under $1000 a month, but it goes far beyond that.
When you travel slowly, you're able to integrate into the culture, learn the language, meet locals, and simply have a richer experience. Daniel and I have been slow traveling through South East Asia since June of 2018.
It has given us many great opportunities! We've learned 3 new languages that have allowed us to build strong connections with locals and new friends. We even learned how to cook authentic Thai food from a woman I lovingly call, Khunmae ("Mom" in Thai), who basically adopted us and didn't let us pay for any meal for two weeks. We were so grateful we ended up working at her noodle shop in Bangkok just out of gratitude.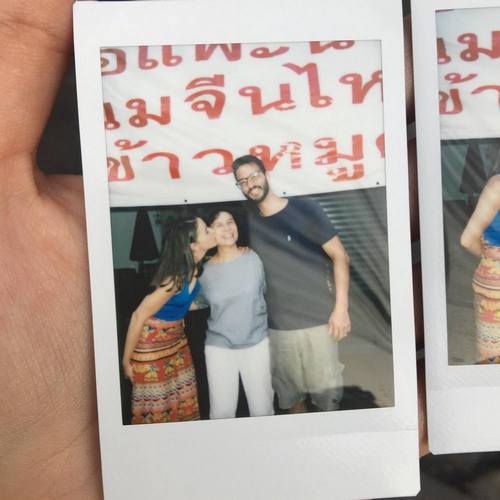 Slow travel has kept our costs down while keeping our experiences rich, fulfilling, and fun! Not to mention, slow travel has given us freedom! Because we travel slowly and on a budget, we have been able to sustain our travels indefinitely; exploring the world authentically and without a time limit.
It's definitely not for everyone, but if you're the type of person that likes to get an inside perspective into a country, its culture, and its people slow travel is for you!
Want to learn more about long-term budget travel and making money while traveling? Click here!
How to Travel for Under $1000 a Month Takeaways
The world is much more accessible than people believe. By using work and culture exchange programs, taking advantage of credit card rewards, picking the right countries, traveling carry-on only, and slow traveling, it's easy to travel for under $1000 a month.
You'll even be able to travel for less than what you spend living back home.
Except instead of using all of your money to buy stuff that fills your house, you'll be using it to fund memories that will last you a lifetime!
Did you enjoy this post? Share the love with your friends by pinning your favorite image below!
Author Bio: Annette is a YouTuber, blogger, and motivational speaker that teaches others how to quit their 9-5 and make money traveling the world on her website, Chase for Adventure. After years of wishing for a life beyond her soul-sucking 9-5, she and her husband quit their jobs, sold all of their stuff, & are traveling to every country in the world by 2023. Their work has been featured on TourRadar, ABC News, CBS 4, and Talk Your Walk. Follow their adventures on YouTube and Instagram.
Originally Published on FrancisTapon.com in July 2019.
UPDATED: October 2019
*Disclaimer: Some of the links in this post are affiliate links and I may get a small commission if you purchase through them. Know that we would never recommend anything we wouldn't use ourselves and appreciate your support of this site*